We Can Understand Each Other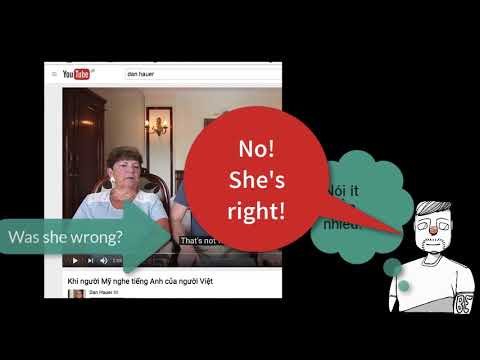 Khi người Mỹ nghe tiếng Anh của người Việt,We Can Understand Each Other
How important is pronunciation? How important is it to sound like a native speaker? I think that is something people worry about too much, sort of not seeing the forest for the trees. One popular teacher in Vietnam, Dan Hauer, made a video showing the difficulty Americans might have listening to Vietnamese people speaking English. I think he is trying to make things too difficult, and for the purpose of his lesson, he encourages the Americans to not understand what they are hearing. I want to encourage us to trust each other, to know that we can help each other when understanding is difficult. Some teacher think I may be being too lenient. If students expect other people to make na effort to understand them, then students may feel that they do not have to practice pronunciation.
I hope you will watch Dan's video and watch mine, and tell us what you think.
What's the right balance?
You can see Dan Hauer's video on his Youtube channel here: https://youtu.be/7_tk-9onYAE